Our Group has had another exceptional term with increased membership, exciting activities and great opportunities for our young people to enjoy scouting. My thanks go to our leaders, the committee and parents who give their time so freely and willingly for the benefit of our children.

Liam

Group Scout Leader
---
Beavers
We aim to get out and about as much as possible during the summer term and I think we succeeded once again this term. We began with a swimming pool kayaking session, this was a first for Beavers and was so successful that we will definitely be repeating. It is a great way to introduce the Beavers to kayaking as they were able to learn kayaking skills in a safe environment and they undoubtedly showed greater confidence in the pool. It was wonderful to see them all enjoying themselves so much and the feedback from both Beavers and parents was very positive.
Our outdoor activities included pond dipping at West End Common, a local litter pickup, bicycle ride down near the river Thames and the adventure course at Walton Firs, where the Beavers became very dirty but had lots of fun running around. Our thanks to all the dads and grandads who joined us for our round-trip river cruise between Hampton Court Palace and Kingston to celebrate Father's Day. We couldn't have been luckier with the weather, it was a balmy evening to enjoy the cruise, scenery and company.
Our visit to the Mounted Police at Imber Court was greatl!! We were provided a really interesting tour, which ended in the museum but being offered the opportunity to meet the beautiful horses was definitely the highlight of the evening. We also had a really unique visit to the Molesey Apiary where we were shown bees in an observation hive (concealed glass viewing) and took part in other 'bee' games. We have been so fortunate to have the opportunity to visit these places in our community.
Bazzaz is a fun day out that takes place every three years, it is organised by Surrey County Scouts and held at Merrist Wood near Guildford. Over 2,000 young people and 500 adults experienced a fantastic day of activities that included circus skills, go-karts, 'pig-racing', miniature train ride, paper and water rockets, space hoppers, water pistols and so many inflatables that I can't even begin to list them. There were over 230 Beavers from Esher District in attendance and 20 of our 1st Molesey Beavers took part, returning home tired after a full day of excitement.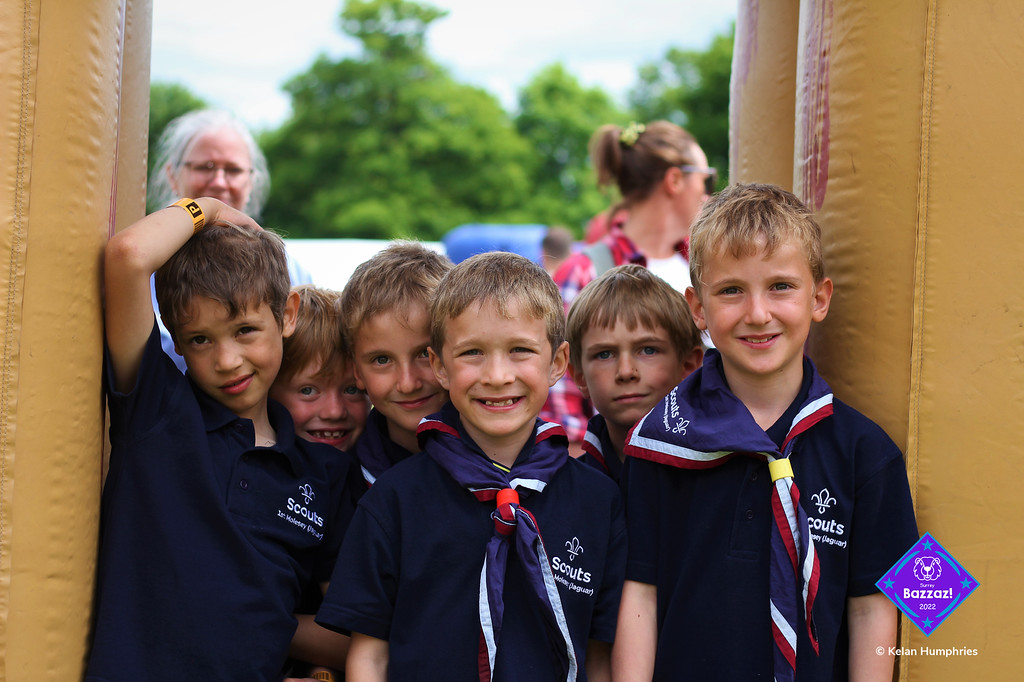 ---
Monday Cubs
The Monday Cubs have enjoyed an action packed summer term splashing about on the water, reaching new heights and meeting other Cubs from across the district.
This term the Cubs have pursued pioneering activities which have included learning new lashing techniques and knots as well as how to erect tripods, they even made their own rope out of toilet roll which was quite a feat. The Cubs reached all sorts of dizzying heights when they went to the climbing centre at Jump In in Esher, some of them bounded up the walls like mountain goats, others were more than happy to be winched up a slide as high as possible before letting go to slide down, and some really enjoyed doing a leap of faith from a great height!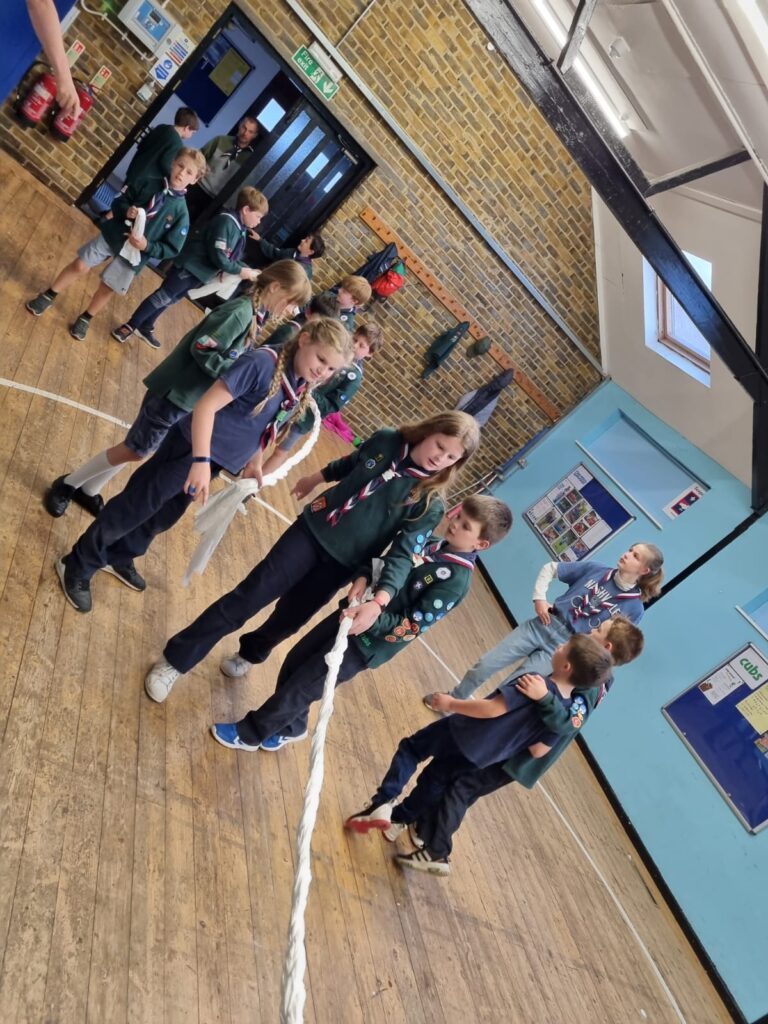 The Cubs have been kayaking on the river this term and the pool sessions have truly paid off with a new level of confidence among a lot of them which was great to see. After having had a great visitor from Bushy Park last term, this term a trip to Bushy Park was on the cards. This was a great evening as they were able to see all the things they had been told about in the park. The Monday Cubs have had great support from the young leaders this term and they provided a great evening learning about how to make maps and use a compass to navigate maps.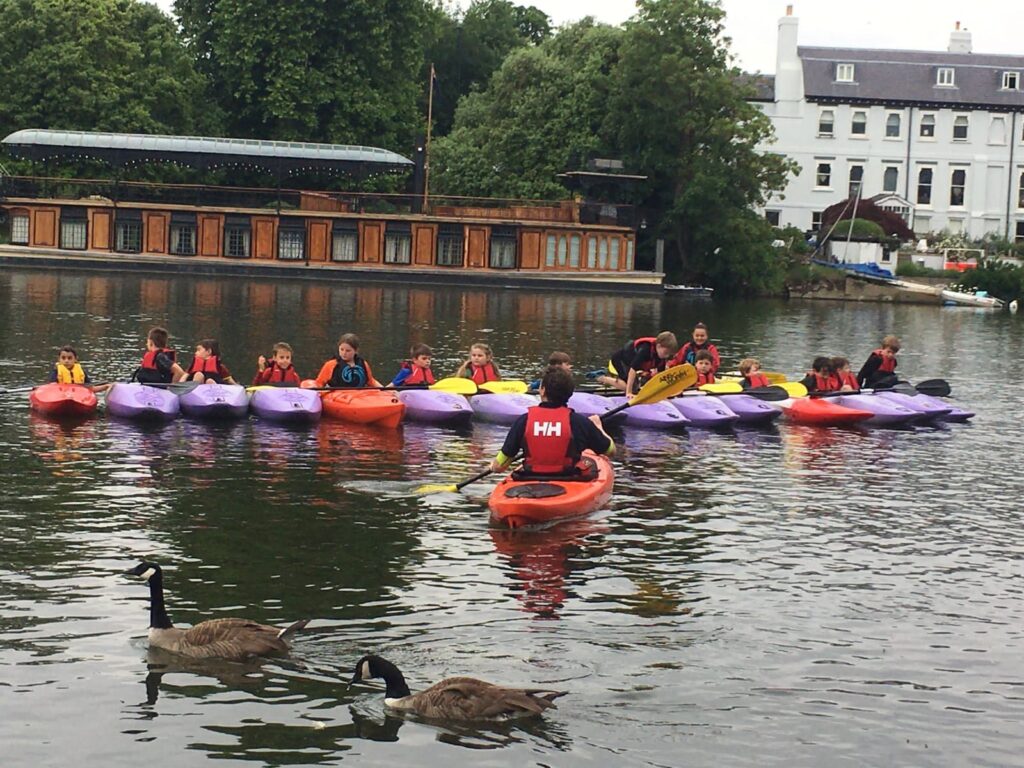 The Cubs also had the opportunity to meet Cubs from across the district at the district camp which is the first chance many of them have had to attend a district event. There was a great turn out for both the St Georges Day parade and the Molesey Carnival which saw many of the Monday Cubs dressed as Vikings following 1st Moleseys Viking long boat down the high street.
The term was finished off with a great evening speeding round Island Barn reservoir on the speed boats. This gave many of them their first experience of power boating, and for those that wanted to, their first experience of driving them. It has been a great summer term jam packed with activities which have been earning them lots of badges, but most importantly has made for a lot of fun along the way
---
Tuesday Scouts
Summer 2022 has been better than ever! Starting off the term on the water, we've been down through Hampton Court and around Desborough Island.
In May, a couple of leaders took part in the Hamble River Raid down in Southampton, rowing our brand new Skiff, Fara. This was the boats first major outing and it was fantastic to see it out on the water. Several Scouts headed down to Chichester Harbour for a sailing weekend in conjunction with Viking Sea Scouts. It was great to see them out on the water and progressing their sailing skills.
After half term and 4 years of planning, we finally moved up to Island Barn Reservoir. It was an amazing achievement to get the entire troop on the water at the same time. 30 Scouts have been choosing Sailing, Powerboating and Canoeing throughout the summer. It has been a fantastic achievement that wouldn't have been made possible without our fabulous Leaders.
Scoutabout saw our largest ever camp at 1st Molesey. We had an amazing time at Ardingly show ground, great to see so many take part in this once in a lifetime opportunity.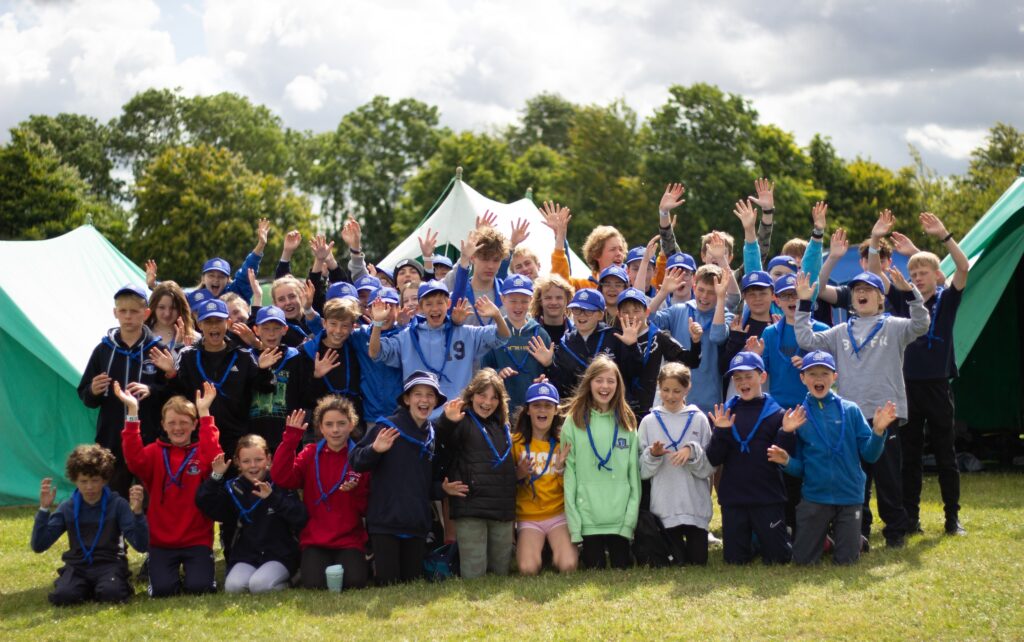 We look forward to a summer of further camps with KIJ and our New Forest Camp on the sea.
Thanks to everyone for a fantastic term of again, more than ever before.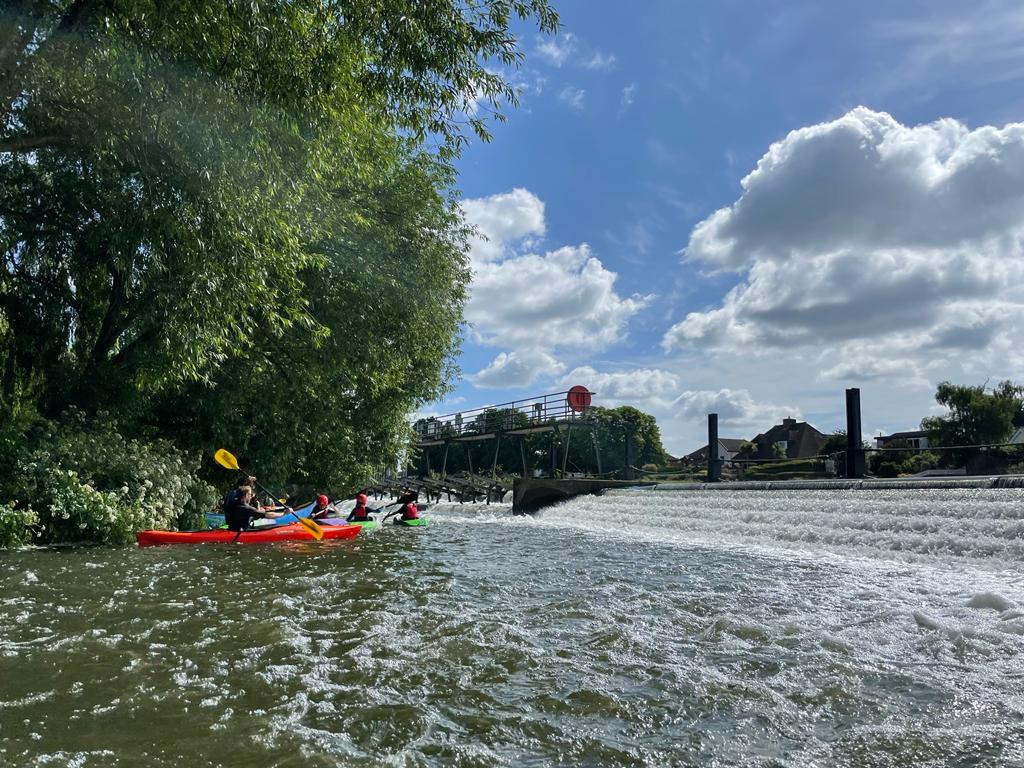 ---
Wednesday Scouts
The Summer Term has been packed full of adventure and new experiences for our Scouts. We have over 8 different schools represented on a Wednesday evening, which gives our young people the chance to make plenty of new friends!
This term we've focussed on been boosting water skills, with kayaking, sailing, gig rowing and powerboating on offer – we've been on the river/reservoir pretty much every Wednesday evening this term.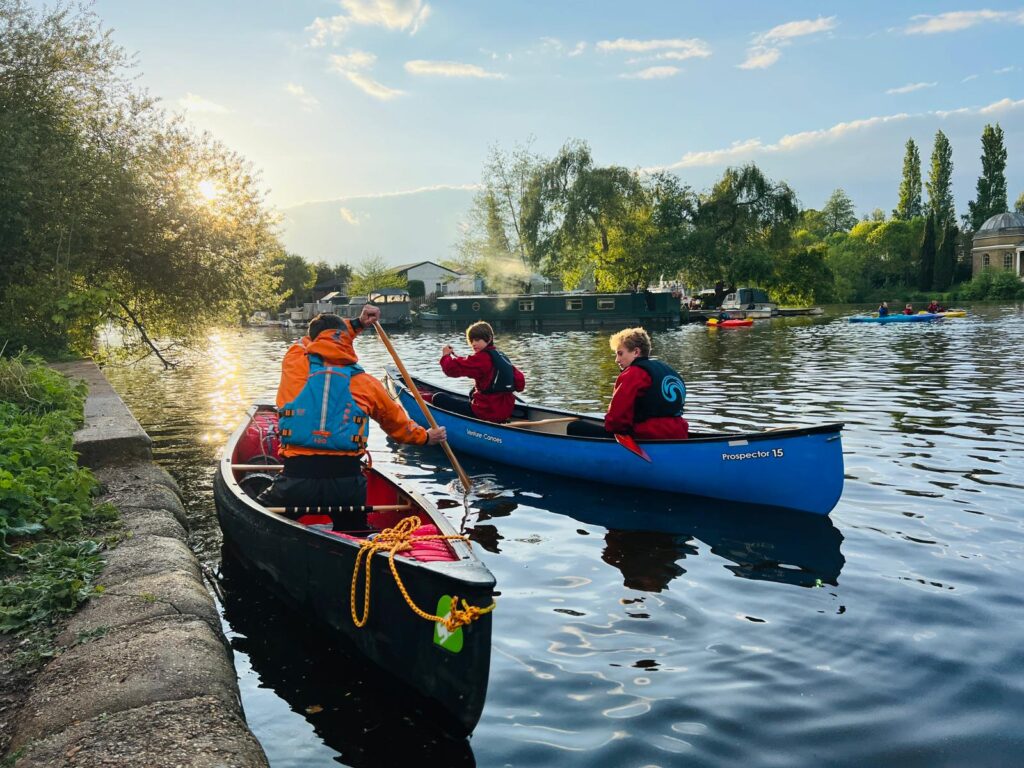 Where the weather hasn't been ideal, we've done similarly adventurous activities on the land – tomahawk throwing on our new range has been a hit!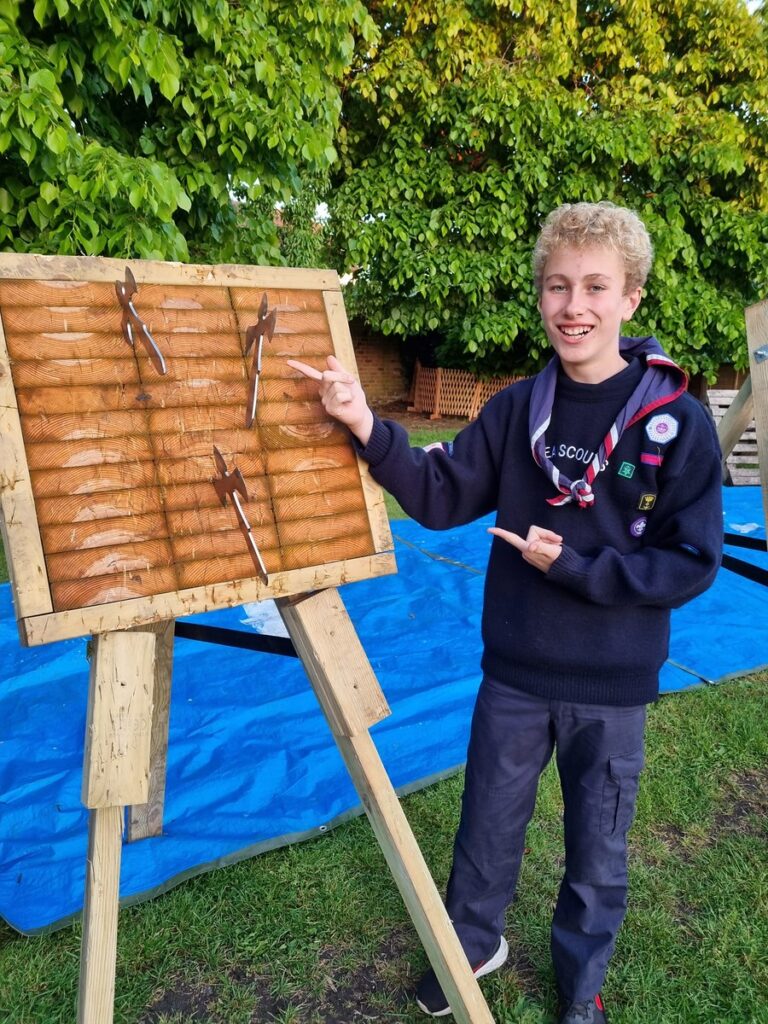 There's also been plenty of opportunity for nights away from home this term. We've been on a Bushcraft Camp in Godalming, headed to Cobnor on the South Cost for a sailing weekend, joined Scoutabout 2022 with 5000 other Scouts from Surrey and are looking forward to heading off to Kent International Jamboree in August!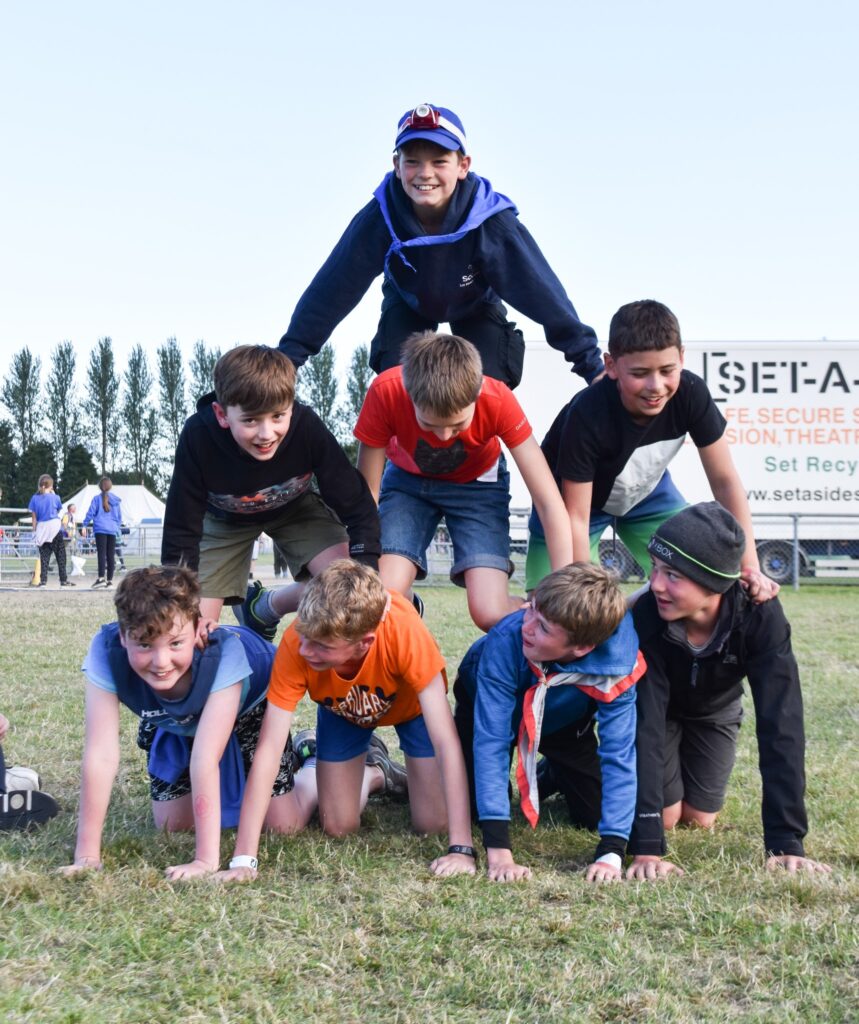 We ended our water season with a trip to Liquid Leisure in Shepperton which was enjoyed by over 45 of our Scouts and leaders, including some Scouts from Tuesday.
In September we have lots of new families joining the Wednesday troop and we can't wait to welcome them. We remain 1st Molesey's largest section and thanks must go to all of the brilliant leaders and helpers that support us every week in running such an exciting programme.
---
Thursday Cubs
This term we have managed to pack in so many fun and exciting activities it is hard to know where to begin! We've visited Jump-In, made Minecraft weapons, designed and constructed marble runs with Lego and taken part in a Pack Forum to name just a few of the exciting things we have done. We thoroughly enjoyed being Vikings at Molesey Carnival and proudly represented our pack at the St George's Parade looking incredibly smart. We loved making our own ice cream and enjoyed tasting our hard work and effort afterwards. Who knew how much vigorous shaking it took to make ice cream!
We spent lots of time on the water improving our Kayaking skills enjoying the beautiful weather we have been lucky enough to have. For some of the Cubs this meant overcoming huge personal challenges to be able to participate and get on to the water. We finished the term with an exhilarating session where all Cubs had a go at driving a powerboat at speed across Island Barn Reservoir. The whoops of delight could be heard from the shore and that was just from the Leaders!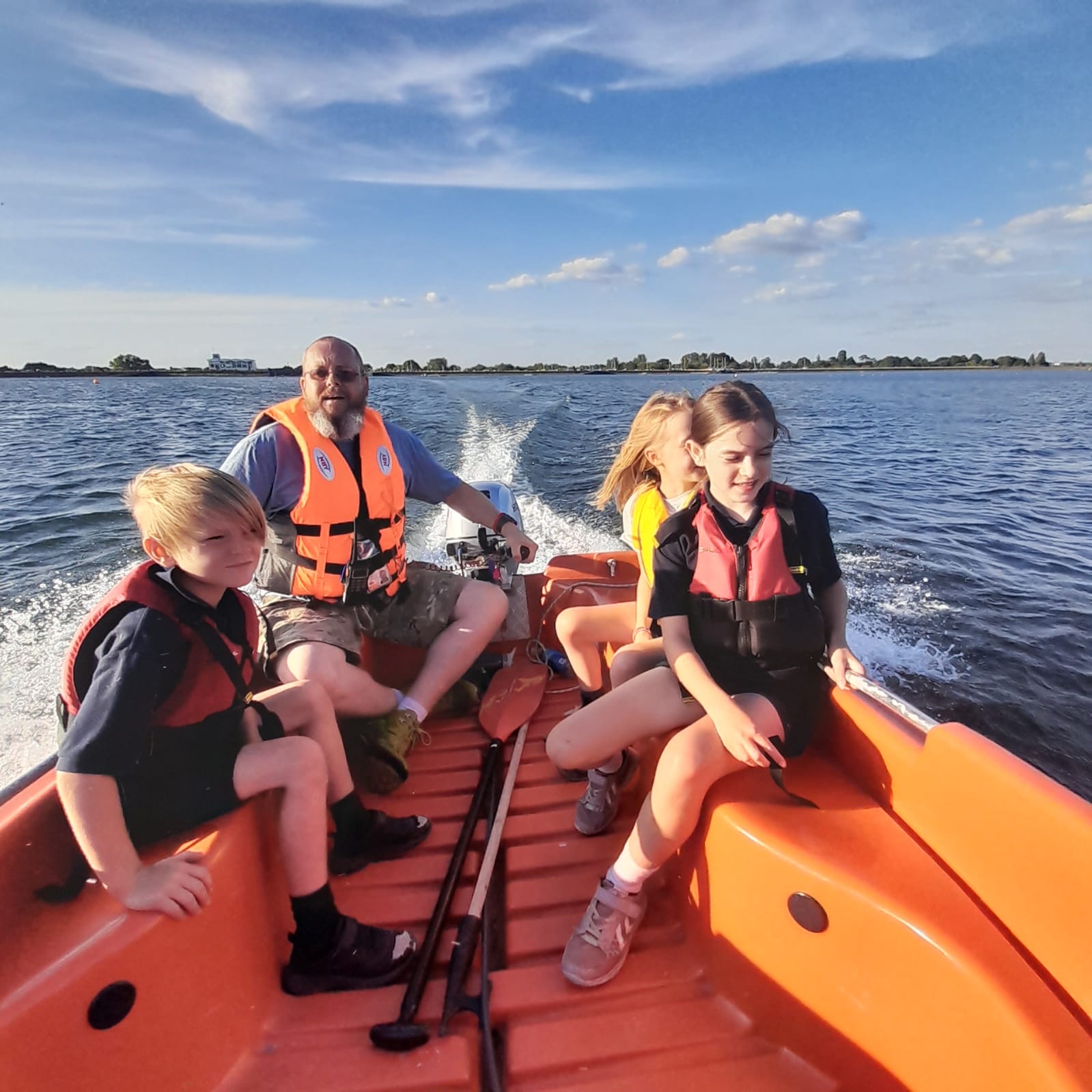 One of our favourite Pack meetings was giving our Sixers an opportunity to lead a session as part of their work towards their Chief Scout Silver Award. Our Sixers had to plan, resource and deliver an activity of their choice to the whole pack. We were treated to a homemade game of 'Go Fish' with several Sixes all desperately seeking the Tesla Model X to complete their pair. Another Sixer provided a planting activity for the pack reminding us of the important work that bees and other creatures do and our final Sixer had the whole Pack totally immersed in a spinning art activity using a machine that he had built himself. It was a wonderful Pack meeting for everyone involved and we are very proud of our fabulous Sixers for stepping up to the challenge!
The highlight for many of our Cubs was taking part in the District Cub Camp. It really was an incredible weekend filled with fires, annoyingly catchy camp songs, tummies full of marshmallows, axe throwing, impromptu games of football, making new friends and VERY late nights! All of the Cubs left us on Sunday evening covered in mud, utterly shattered but full of wonderful memories. We can't wait for the next one!
All of the Thursday leaders would like to give our very best wishes to our eldest Cubs leaving us for Scouts, we've loved having you as part of our brilliant Pack!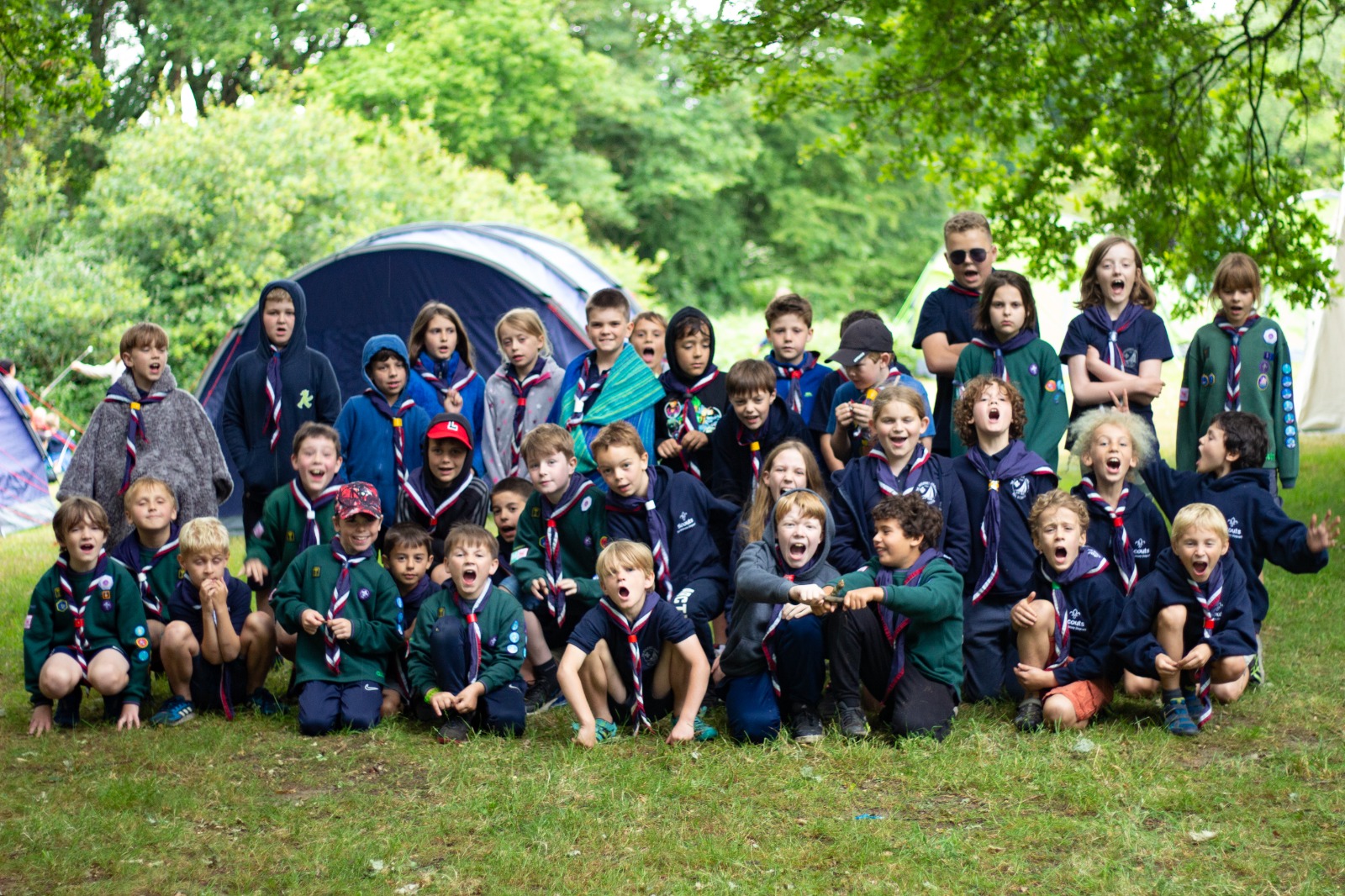 ---
Explorers
Explorers have spent the summer term on the water, doing what they enjoy most – kayaking, canoeing, power boating, sailing and finishing off the term with a session at Liquid Leisure. Kayaking the River Mole was certainly an experience and a first for us all! A few of us enjoyed the joint Scouts, Explorers trip to Greenwich to go onboard RFA Mounts Bay for a tour and another visit into London for the Military Musical Spectacular at Horse Guards Parade.
Nine of our Explorers successfully completed their Duke of Edinburgh (DofE) Bronze paddle expedition from Boveney Lock, Windsor to Molesey over two days. They did exceedingly well showing teamwork, great kayaking skills and resilience with some excellent cooking of their evening meal and breakfast on trangias. They can now look forward to their DofE Silver expeditions, which will be held on the River Medway and the Oxford region of the River Thames.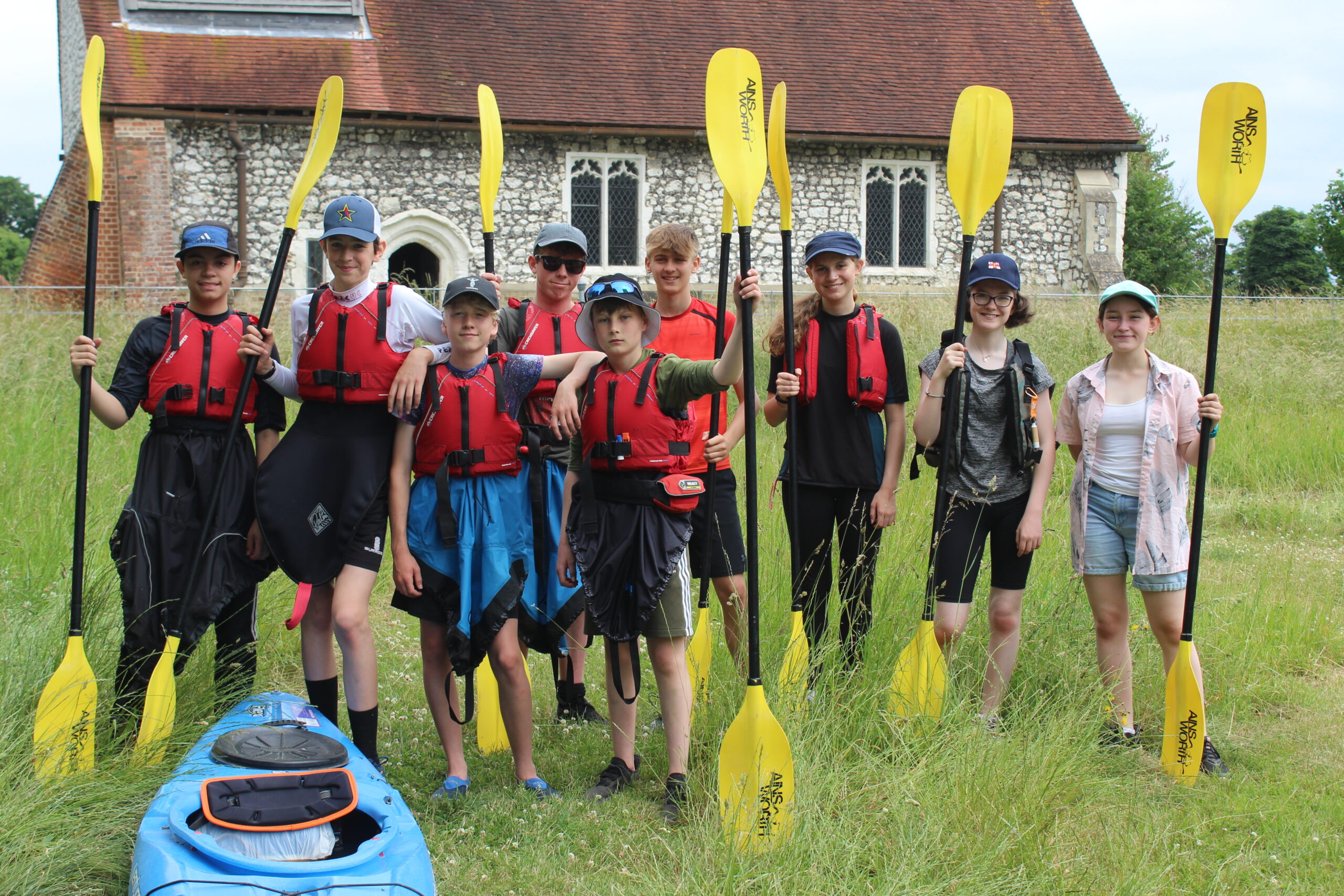 Kelan, Joshua, Daniel, William and Max are currently participating in their Gold DofE practice expedition, this time in canoes on the more challenging River Severn. They were dropped in North Wales and will be spending 5 days paddling through an exceptionally picturesque section of the River Severn chosen for its Gold level water conditions and will end their trip in Arley where they will journey home on trains. This training and experience will provide them with British Canoeing Multi-Day Touring Award level. After this practice expedition they get a short rest period before travelling to the River Wye for their assessed expedition in August.
We are extremely proud of all of the DofE expedition participants and congratulate them on their achievements.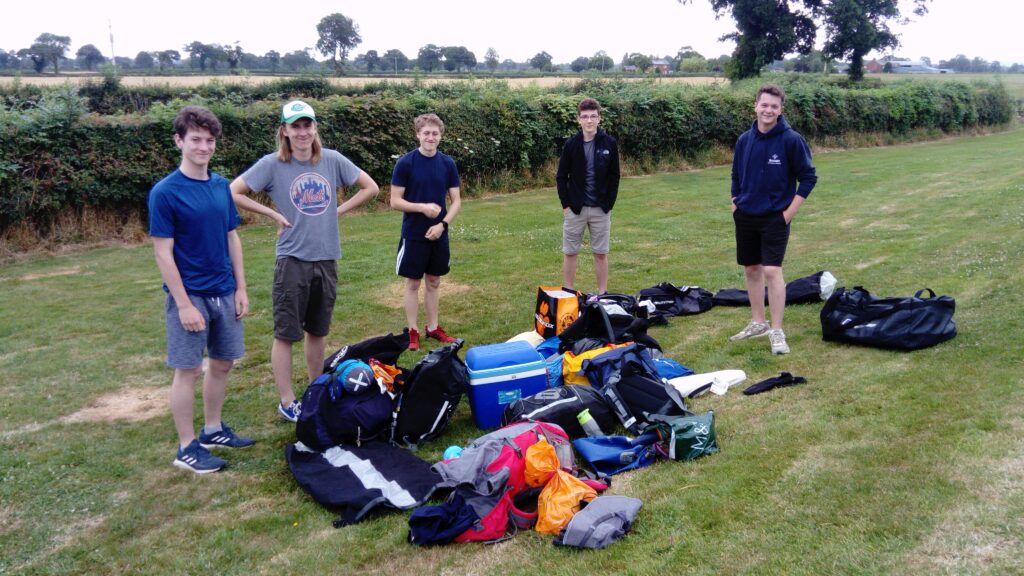 ---
A word from our Chair
What an incredible term 1st Molesey Scouts Group have had – the range of activities that our young beavers, cubs, scouts and explorers have been able to enjoy, and the skills they've learnt, this term are just fantastic!
Scouting exists to give our young people exactly these kinds of exciting opportunities, to actively engage and support them in their personal development, and empower them to make a positive contribution to society.
We can't do this without the hard work, support and dedication of our team of volunteers – and I would like to thank everyone involved for their efforts to make this another exceptional scouting year. From our scout leaders – planning and leading the weekly activities, to our executive committee who ensure the smooth running of the group. I'd like to thank all of you for your time and dedication – the effort you put in we see rewarded in the excitement it gives our scouts.
I urge anyone who can to get involved in the running of our scout group – the more hands the greater the opportunities we can offer to our young people. In particular, we are recruiting for a new Explorer leader to support Tiana, Chris and Kelan. If you would be interested to help, or know someone that might be, please do let us know! Our parents rep group, led by Nicola, is also looking for parent reps from the individual groups to join her next term.
As a busy Scout group we are always seeking fundraising opportunities to help fund our activities. The video below shows our fundraising goal this year, which will be for a new kayak and canoe trailer (Please note the AGM date in the video has now changed to 9 September – see below!).
Please do support our fundraising events and if you have any ideas for ways to raise money we would be happy to hear them. We are also always on the lookout for grants that we may be eligible for – if you are aware of any grant opportunities please do let us know. And as ever, donations, sponsorships and contributions are always welcome, as is help with maintaining our property and equipment.
I hope to see many of you at our AGM in September, we will be re-electing our main Executive Committee posts. We also have a number of roles that we are looking to fill on the Committee including Fundraising Chair, Facilities Management, Building Maintenance, Hall Hire, and an Archivist – to record our history. Please do get in touch if you are interested in any of these roles or want to find out more about being on the executive team: chair@1stmoleseyscouts.org.uk
Finally, on behalf of all of the Executive Committee I'd like to wish you a happy summer – we look forward to seeing you all in September!
Bruce Burrowes
Chair
---
Molesey Beer Festival
14th – 15th October
The beer festival is back!
This will be the biggest fundraiser 1st Molesey has ever done, and we need your help.
We need help on the day, setting up the week before, as well as packing up afterwards.
Please email the team – hello@moleseybeerfestival.co.uk and let us know that you're willing to help.

We are also looking for people, families, and/or businesses to sponsor a beer for £50. If you're interested, then please email to find out more.

Tickets will go on sale very soon, so tell all your friends and family!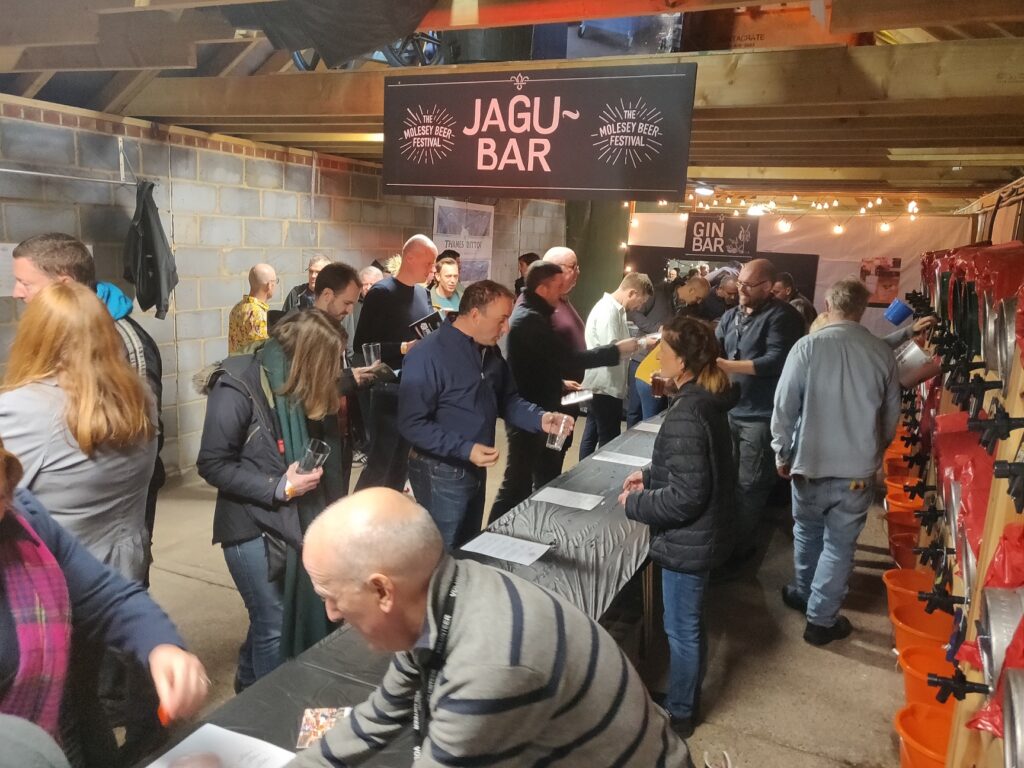 ---
Family BBQ and AGM!
Friday 9th September, 7pm at the Scout Hut
Due to the recent extreme temperatures our Family BBQ and AGM has been rescheduled to Friday 9th September! It will be a great evening and everyone is invited, so we hope to see lots of you in attendance!
To help make the evening a success we need some parent volunteers to help with set up, cooking and serving drinks. We are also inviting each section to run an activity stall to help keep the kids active while we wait for the AGM to start – it would be great to have some volunteers to help run these. We'd really like for this to be a great night so the more help we can get, the better it will be!
We look forward to seeing you there!
---
Thank you to Not Just Travel for continued sponsorship
Your perfect holiday. Tailored to you, booked by us.
Everyone needs a holiday, but how do you make sure you get the dream holiday you deserve?
No trawling the internet or holding for hours on the phone, one 30-minute call is all it takes. Tell us your dream, and your holiday nightmares, and we'll find the perfect match.
Whether you want to book a weekend in the UK, a cruise, Europe, or a luxury around the world trip, we can help.
Our service is free & fully ABTA protected. So, get in touch now and let's start dreaming.
Remember, for every booking made through us from 1st Molesey members, friends and family, we will donate a minimum of £30 to the group.
Lisette and Liam Not Just Travel
lisette.julio-quinn@notjusttravel.com
lisetteandliam.notjusttravel.com
07505 999 773