Volunteering improves your wellbeing, gives you skills for the future, and helps you make new friends (and memories).
Volunteering's not just about giving back – it goes both ways
All our activities are run by volunteers, who might join us because they want to:
Try something new
Make friends
Spend time with their children
Gain experience with young people (lots of our volunteers don't have children)
Do something good for their community and themselves
Keep their bodies and brains active and happy – whether that's by scaling mountains, sharing skills or serving tea
All end up making a huge difference to young people's lives – gifting them with skills for life, and learning a whole lot about themselves along the way.
Whether you want to work with young people directly or help behind the scenes, there's something for everyone.
Whatever your role, you'll be helping young people gain skills for life through activities and adventures – it's what we do.
Volunteering and our waiting list
Our activities at 1st Molesey have never been more popular and the waiting list continues to grow.
If you are happy to commit to a vacant adult volunteer role we would be able to offer your child the next available place in one of our sections after you have started helping.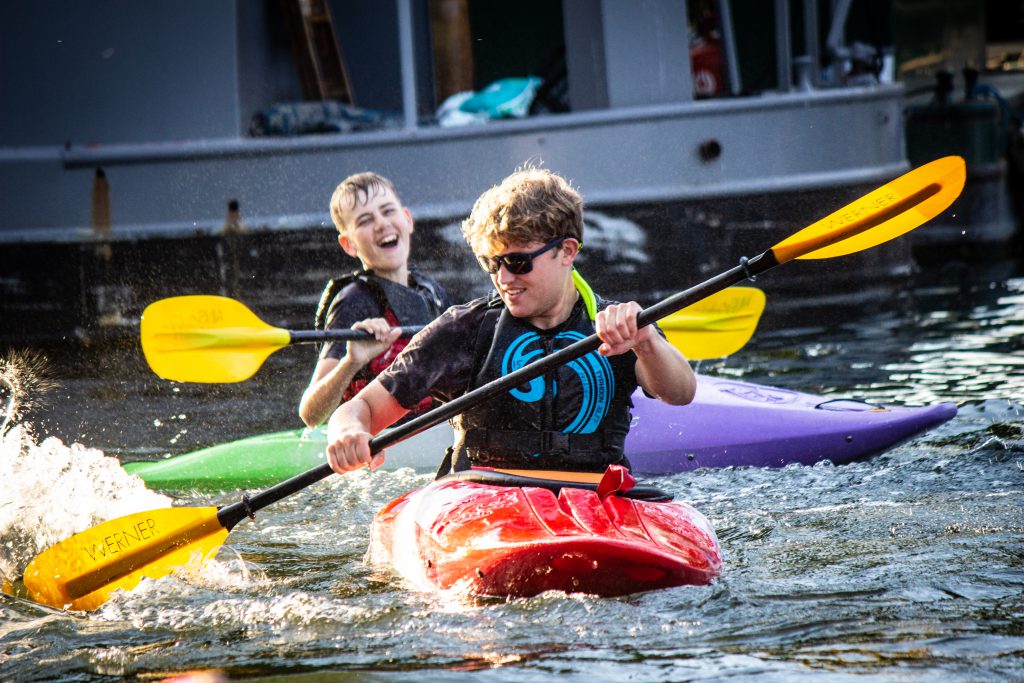 Current volunteering opportunities
We are looking for help with the following roles – can you help?
Section Leader and Assistant Section Leaders – Explorers
This role involves leading our Thursday evening activity provision for 14 to 18 year olds. This is a great opportunity with the chance to make a real difference to the lives of young people.
Fundraising Team Manager
We're looking for some to lead on the organisation of fundraising events for our Scout Group. This is a trustee board (like the board of governors in a school) role. We are also looking for volunteers to take an active part in a fundraising team to assist with the planning, preparation and management of key fundraising events (like the Molesey Beer Festival).
Maintenance Team Members
Exactly what you support will depend on your skills, interests, and what is needed. It could be gardening, painting, electrical work, putting up a shelf, or cutting up some logs. It will be varied, but always with a cup of tea, a biscuit, and some friendly faces.
Water Activity Instructors
Do you have experience kayaking, sailing, powerboating or rowing? We'll give you all the training you need to run these exciting activities for our young people. We are particularly keen to hear from those with sailing experience and/or qualifications.
Deputy Chair
This is a trustee board role and exists to support the Chairman and Group Scout Leader by regularly engaging with parents of our members to get them more involved in the group, particularly at fund raising events.
Archivist
We're and old group and proud of our heritage! We're looking for someone who has the time to manage and catlogue our extensive archive of documens and photo albums.
Cleaners (or a team of cleaners)
We're looking for someone who can support the leaders by helping to keep our building clean and tidy.
Duke of Edinburgh opportunities
We have opportunities for young people (aged 14+) to complete their DofE volunteering with us at all levels of the scheme.
Frequently asked questions
Here are the answers to some common volunteering questions.
Please don't hesitate to get in touch if you're interested in finding out more or having a chat with some of our existing volunteers.
Are volunteers DBS checked?
Yes. All adults working in Scouting complete a DBS check when they start volunteering. This is quick and simple and will be arranged by us once you've decided you'd like to volunteer.
Will I have to wear a uniform?
We are a uniformed organisation but the majority of our volunteers choose to wear either a polo shirt or hoodie to show they are part of the team. We are united by the 1st Molesey scarf we all wear.
Will I have to complete loads of training?
Scout volunteers have access to an award winning programme of training. For all roles there are a few basic modules to complete that cover safety, safeguarding and give an introduction to the aims of Scouting and how it operates. Training can be completed online at home or with other local volunteers.
If I show an interest will I be thrown in the deep end?
No. You'll be working with a team of friendly volunteers and there will be loads of support.
I have no Scouting experience, does this matter?
Not at all. Most of our current volunteers joined without having any Scout experience. Scouting gives adults brilliant opportunities to develop their interests and meet others.
I will only be able to help out occasionally on a flexible basis, is this ok?
Volunteering in Scouting is flexible and we work in teams. Whether you help out once a fortnight, month or term or just at special events or camps, there's a role for everyone. Please get in touch so we can arrange a chat.
Up for it?
Try the four week challenge.
Week 1 – See what we get up to
Week 2 – Start to help out
Week 3 – Get a little more involved
Week 4 – You'll know if Scouting is for you