Welcome to all our new young people and volunteers. It's great to see new faces!

The Autumn Term was another busy term of activities and adventures. We kicked off in September hosting our rescheduled AGM and family BBQ at the Scout Hut, an important event in our yearly calendar. This was swiftly followed by our annual Beer Festival – the highlight of our fundraising activities. Thank you to all of you who helped out – whether that was getting the hut ready in advance, setting up the event, serving on the night or packing away after – it wouldn't be possible without our army of volunteers. It was a roaring success and we hope those of you who were able to come enjoyed an evening sampling the wide range of craft beer, wine and spirits!

We can't provide amazing opportunities without our leaders, volunteers and help from our Scout families. From collecting wood for the scout hut for the winter bonfire season to assisting the leaders in running activities or being part of the Executive Committee, please do think about how you can help us continue to deliver this rich and varied programme for the children.

Finally, we would also like to do a call out for our Scout families to sign up to our Gift Aid scheme. Our Scout Group relies on the income generated from Gift Aid, the government scheme that gives us 25 pence for every £1 donated to us, which includes the membership fees you pay. It's a simple way for us to fundraise, so make sure you are signed up in Online Scout Manager.

Liam

Group Scout Leader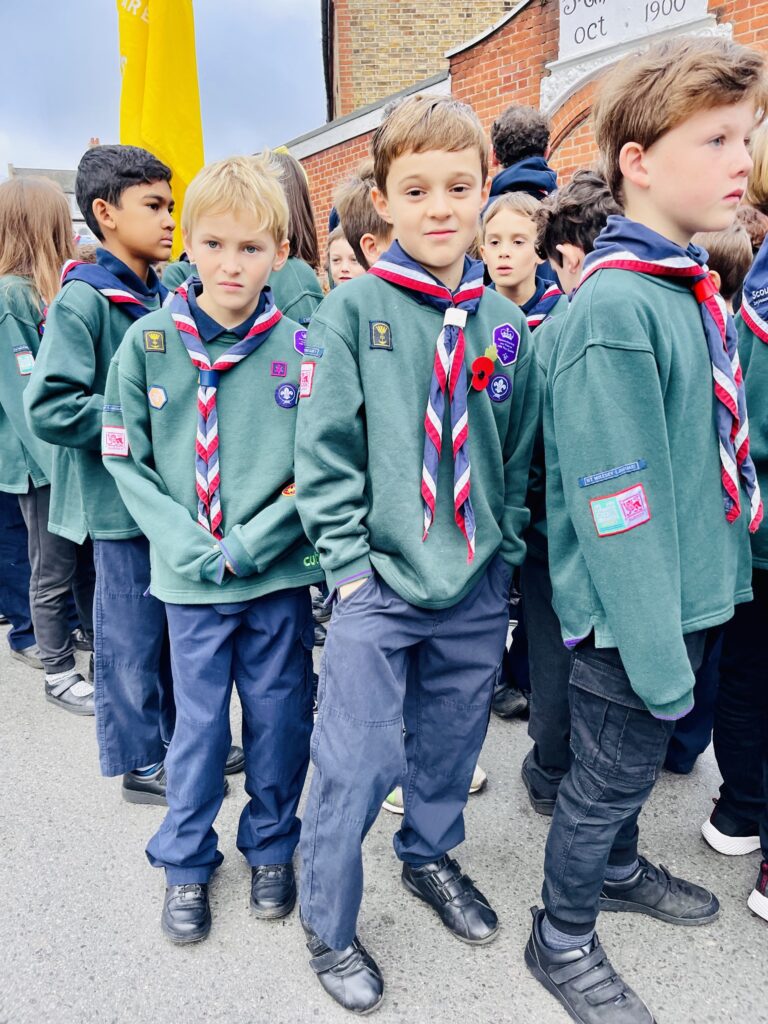 ---
Beavers
Our Beaver colony is made up of 24 girls and boys aged 6 – 8 years old. We take part in a wide range of activities including games, crafts, visits along with outdoor activities. We are always working towards badges as part of the programme, developing new skills and giving a sense of achievement to all of our lovely young people.
During Autumn one of the badges we concentrated on was the Global Issues badge, where we learned about fairtrade, endangered animals, how some people have problems finding clean and safe drinking water as well as how to save energy/recycle; this included an interesting visit to our local Eco-shop.
At the beginning of term whilst we still had daylight during our meeting, we visited East Molesey Cricket Club where Dean and Luke taught us some cricket skills that we all enjoyed.
Gian provided a STEM session to Beavers, challenging them to design and build medical centres for Penguins with Lego. This was a lot of fun for our inventive Beavers and they were so proud to show and talk us through their creations.
Other fun activities were a campfire, Christmas craft, Christmas celebrations from other countries (well led by our young leaders – thanks Eloisa, Evie and Elin), a roller-skating disco and ending term with a Christmas party.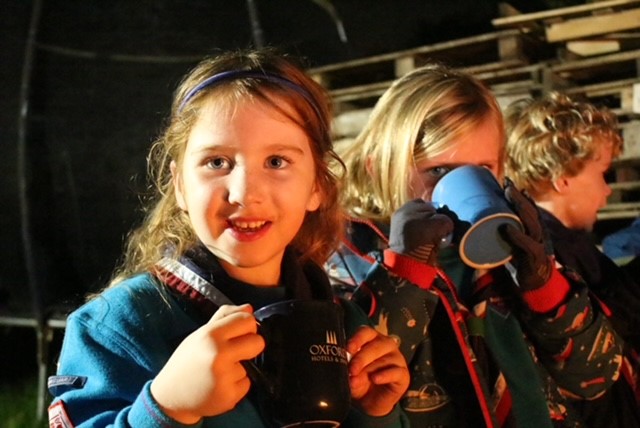 ---
Monday Cubs
Monday Cubs had a very active and busy Autumn term!
We started our term with 5 brain-teaser challenges at the Hut. We also learnt First Aid, tent/shelter building, water safety, backwoods cooking, and air/airplane technics. Our cubs had a lot of fun at the roller disco and ice-skating activities, as well as running around in the dark at our local park for some wide games. And let's not forget our end-of-term sleepover when cubs were able to sing campfire songs, cook and eat lots of s'mores, and watch a movie till bedtime.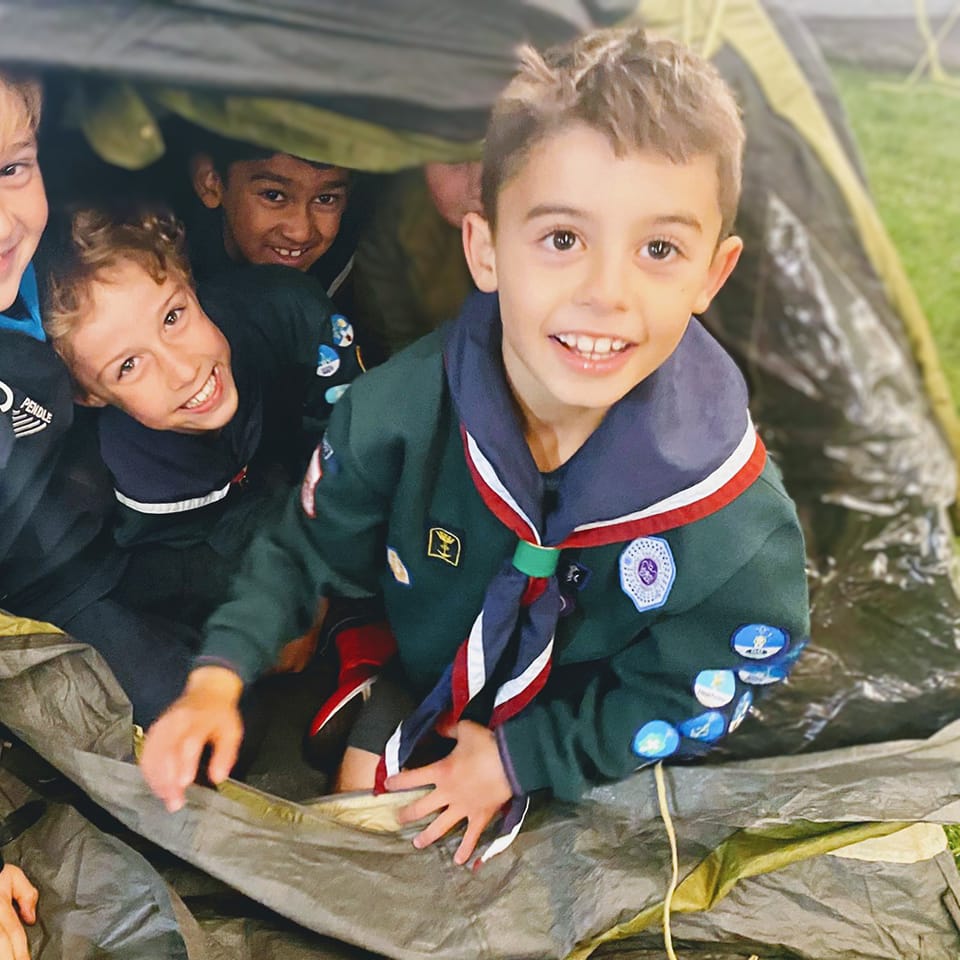 ---
Tuesday Scouts
We started the Autumn term back out on the water at Island Barn with a spot of powerboating, making the most of the light nights. We enjoyed an evening of activities run by the Royal Navy and a Local Challenge Night out exploring our local area, we also revisited a scout favourite –the chip tasting challenge around the local chip shops. Fire safety skills were a focus last term as we learnt about the causes, dangers and prevention of fire as the scouts learnt to drop and roll and planned escape routes for their homes.
As the dark nights drew in we enjoyed evening adventures outside at Polyapes and Oxshott Heath – with an impromptu wide game with 3rd Stoneleigh Scout group – and hoping for a 2023 rematch!".
Tuesday scouts also took part in the District Night hike in October, one of the most fun and exciting events of the term. Halloween saw us scared out of our skins in the horror maze at the scout hut and many of our scouts enjoyed the trip to Chessington for a day of spooky rides. Our scouts let their creative imaginations run wild in our session making stop motion animations and we rounded off a jam-packed term with a Christmas Ice-skating trip at the palace.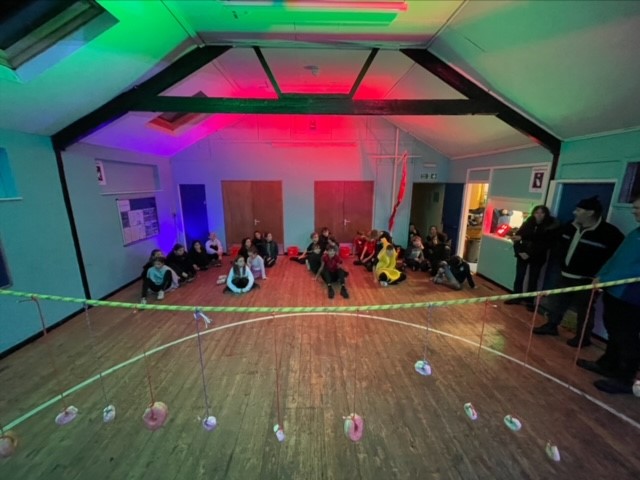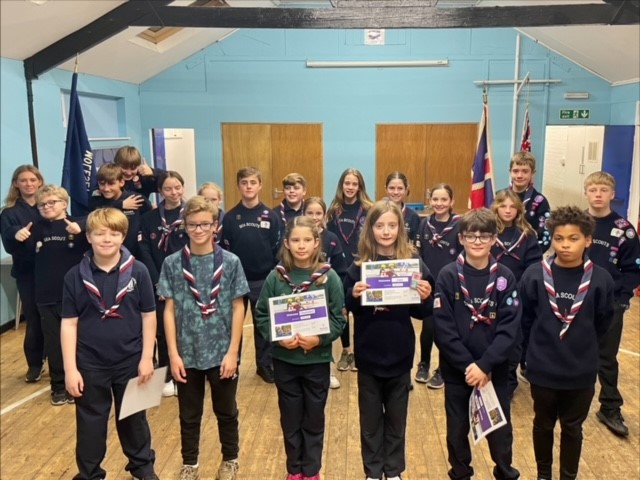 ---
Wednesday Scouts
We were delighted to welcome 10 new Scouts in September taking us to 37 young people – safe to say the hut is busy on a Wednesday evening, we'll need a bigger hall soon!

Despite diminishing daylight and dodgy weather, our fab team have powered another action-packed term. Huge thanks to everyone that helps to give the Wednesday Scouts the best deal possible, equipping the children with life skills through activities and adventures – it's been one of our busiest autumn terms yet.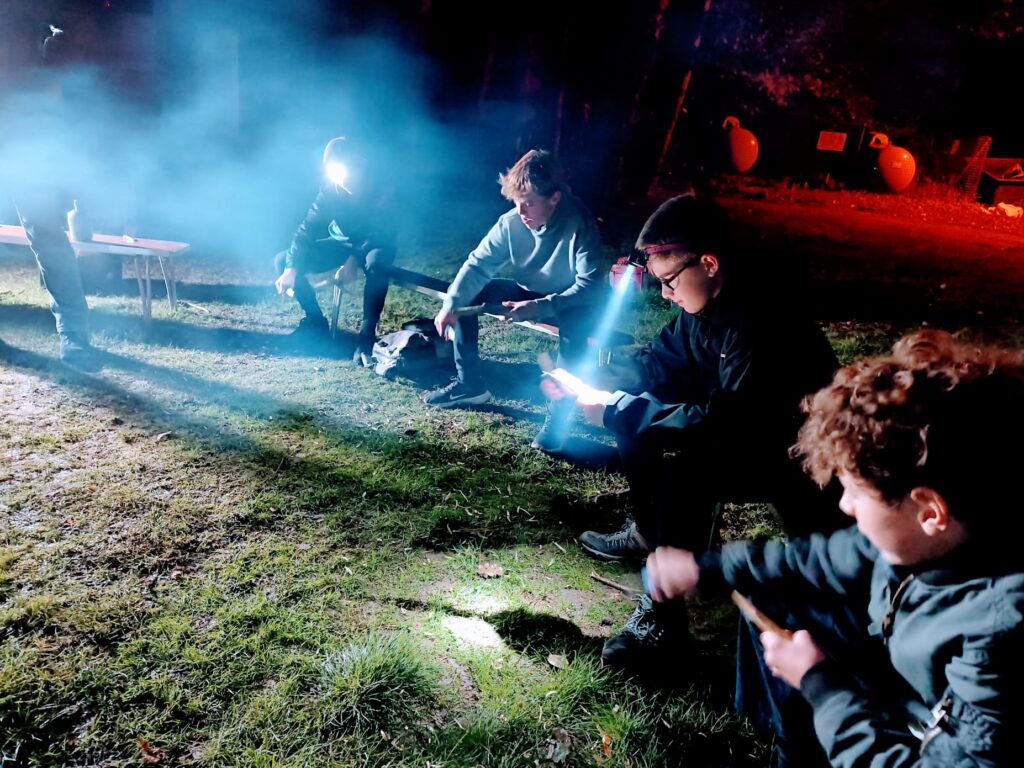 Talking of adventure, this term the Scouts have been rock-climbing at White Spider, been geographically embarrassed (lost) in the Surrey Hills, swung through the trees at GoApe, taken part in a RYA Powerboat Level 1 course and multiple rifle-shooting sessions, visited Chessington at Halloween and been Ice Skating at Hampton Court Palace.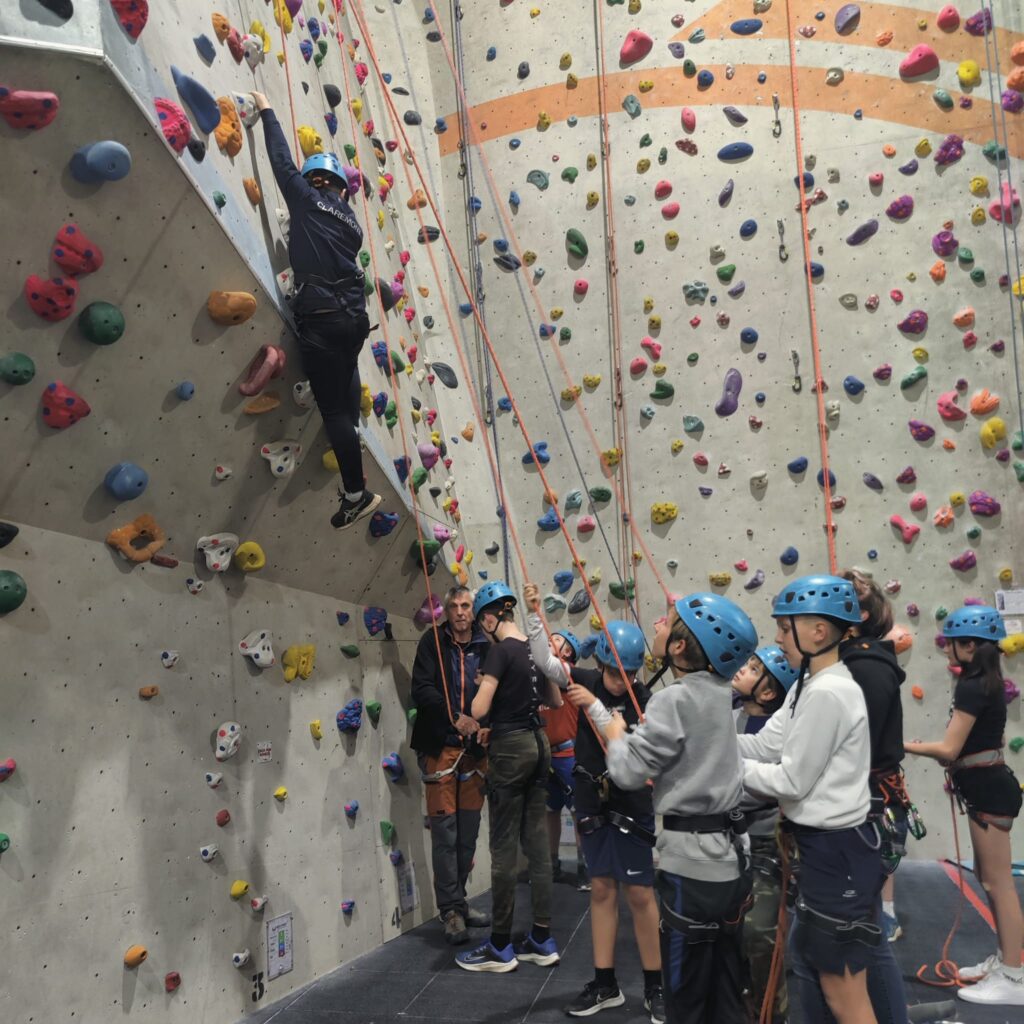 Skills developed this term have including cooking, navigation and several parts of the Teamwork Challenge. We were delighted to have a visit from Sarah and Caroline at Casualties Union who helped our Scouts complete their Stage 4 Emergency Aid badge with some very realistic injuries. Giving children the confidence and skills needed to help others is what we do!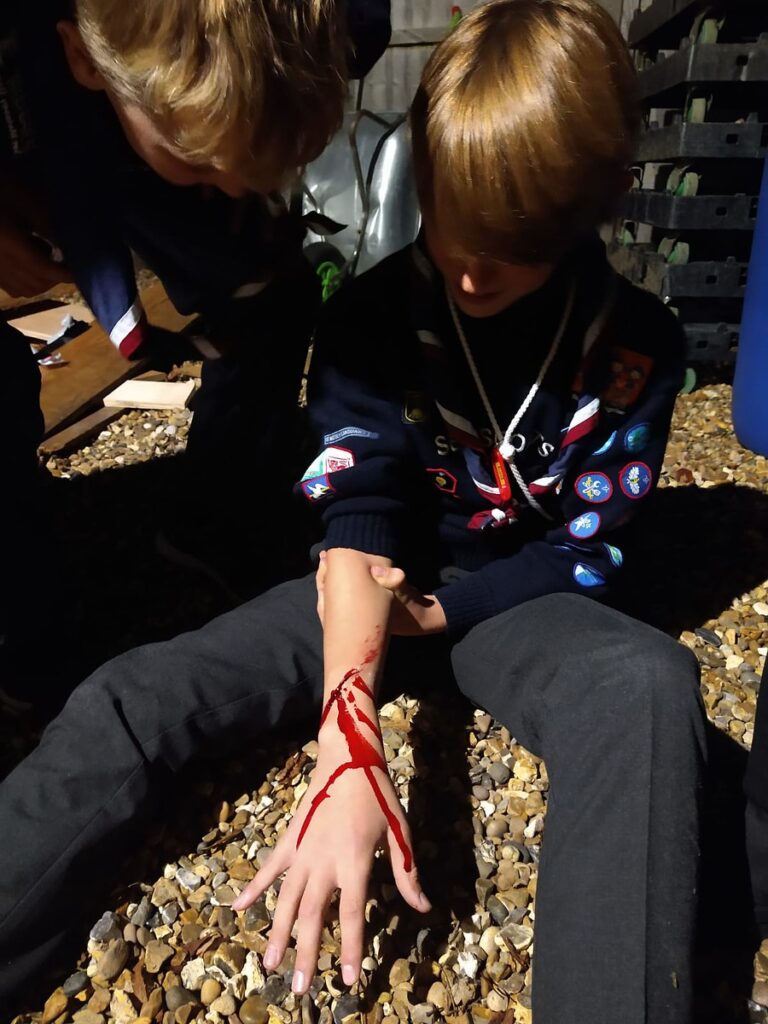 After Half Term we worked on our Science Badge and witnessed some incredible chemical reactions:
The Autumn Term always gives us an opportunity to reflect on our Scout Values. They underpin everything we do, how we act and the way we treat each other.
All but 2 of the Wednesday Scouts represented us at Remembrance Sunday.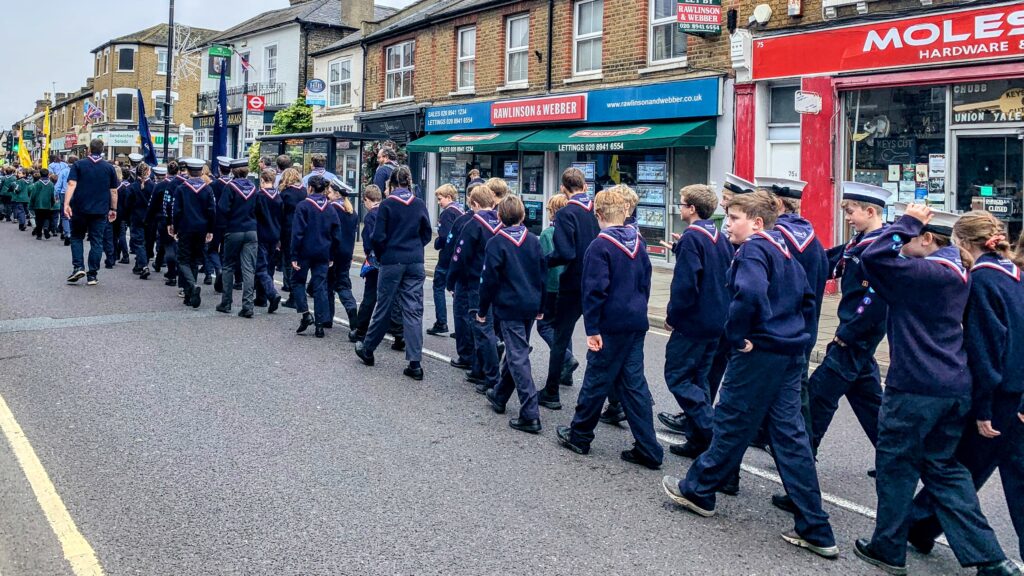 The Scouts achieved loads this term and we're really proud of them – see you in the Spring for more!
---
Thursday Cubs
Thursday Cubs have had an excellent term of activities and welcomed several new Cubs and Young Leaders to the pack.
This term we have enjoyed so many activities including playing wide games in the dark at Hurst Park. Some of the Cubs were exceptionally good at playing hide and seek in and the Leaders had to work hard to find them all in the darkness! We thoroughly enjoyed the Halloween maze set up in the garden although some of us had to be really brave when entering the spooky boatshed as it was particularly nerve -wracking! To be fair some of the spiders were pretty big…….
We enjoyed our roller-skating disco where we really had to put to good use our skills of determination, resilience and perseverance just to get round the rink! Much to the Leaders relief, everyone escaped without any broken bones or damaged limbs although everyone left very pink and sweaty!
We learnt basic survival skills such as keeping ourselves warm and dry in an emergency and building a simple shelter using everyday items. This was a good base for us to earn our Level 2 First Aid badges too as we learnt how to tie bandages, call for help and understand how to help someone who needed CPR.
We also enjoyed a visit from Richard from the RNLI who taught us all about the dangers associated with water and how we can keep ourselves safe. The Thursday Cubs demonstrated excellent questioning skills and were very respectful towards out visitor.
One of our favourite Pack meetings was having the opportunity to see Venom the police dog again before he goes off to begin his training. Who knew Venom could pull along five of the Thursday Cubs whilst playing tug of war!
All in all it has been a very enjoyable term for the Thursday Cubs who have learnt some very useful skills, taken part in adventurous activities and earned lots of badges. Well done Thursday Cubs!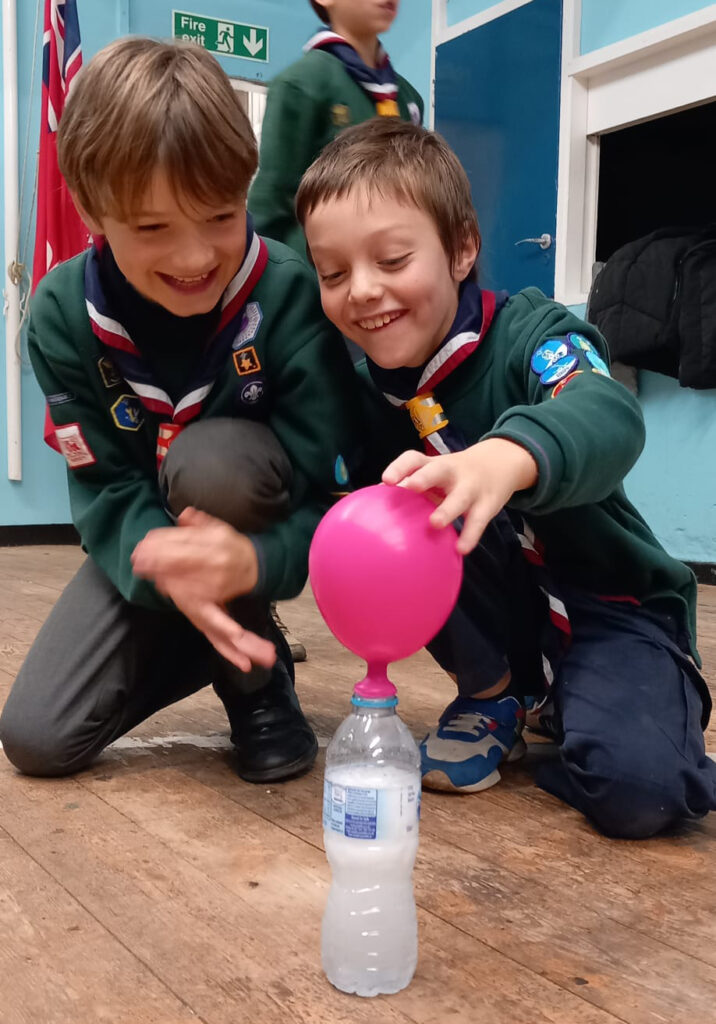 ---
Explorers
Explorer Scouts are aged 14-18 years and our current Unit has 24 members. We would like to take this opportunity to thank those who came along to Explorers this Autumn to help provide a varied programme of meetings.
We started off the term learning about Soft Skills with Lee, if you're not sure what this means: "personal attributes that enable someone to interact effectively and harmoniously with other people" and I'm sure you will agree that this skill is something we can all benefit from!
Another great walk provided by Jim, this time a 5-mile circle of Oxshott commencing at the Heath.
With help from Chris M we are slowly expanding our baking repertoire so that we can now demonstrate scones, which on the whole turned out very well (although one group of Explorers required a 'take-two'!).
Giles led air rifle shooting (a firm favourite) and Gary, tomahawk throwing – a new experience for most Explorers, which was a great deal of fun.
A first for an Explorer meeting was sewing Boomerang Bags (thanks to Jo for organising) and t-shirts into totes with Jane. We were so impressed with our Explorers' sewing skills, as they all sewed fantastic bags that they should be proud of.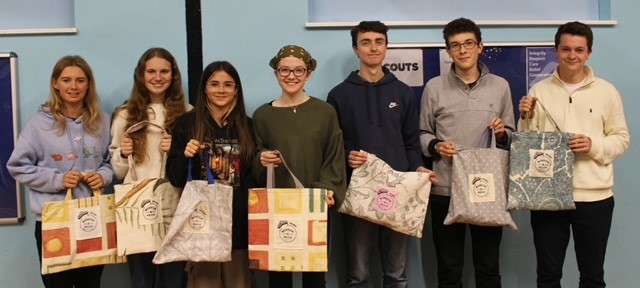 Another first for Explorers was a STEM (science, technology, engineering and mathematics) session with Gian when he asked them to design and build golf courses and clubs.
Explorers became very creative Lego builders and competition was stiff. Everyone agrees that you are never too old for Lego!
Our Christmas activity this term was a visit to Jump In.
---
Save the dates!
Bingo Night – 4th March 2023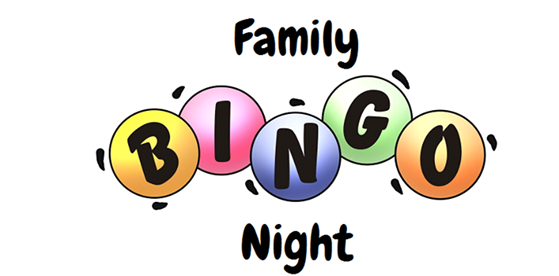 Hold the date… family fundraising event for 1st Molesey
Join us for a bingo night on Saturday 4th March 4.30pm-7pm at the Hut
Licenced bar. Food to pre-order. Bingo Prizes & Raffle
Full details including booking information coming soon.
Molesey Beer Festival – 6th & 7th October 2023
The beer festival will return in 2023!
This is one of the biggest fundraisers 1st Molesey organises, and a fantastic social event for all the family, so do put the date in your diaries.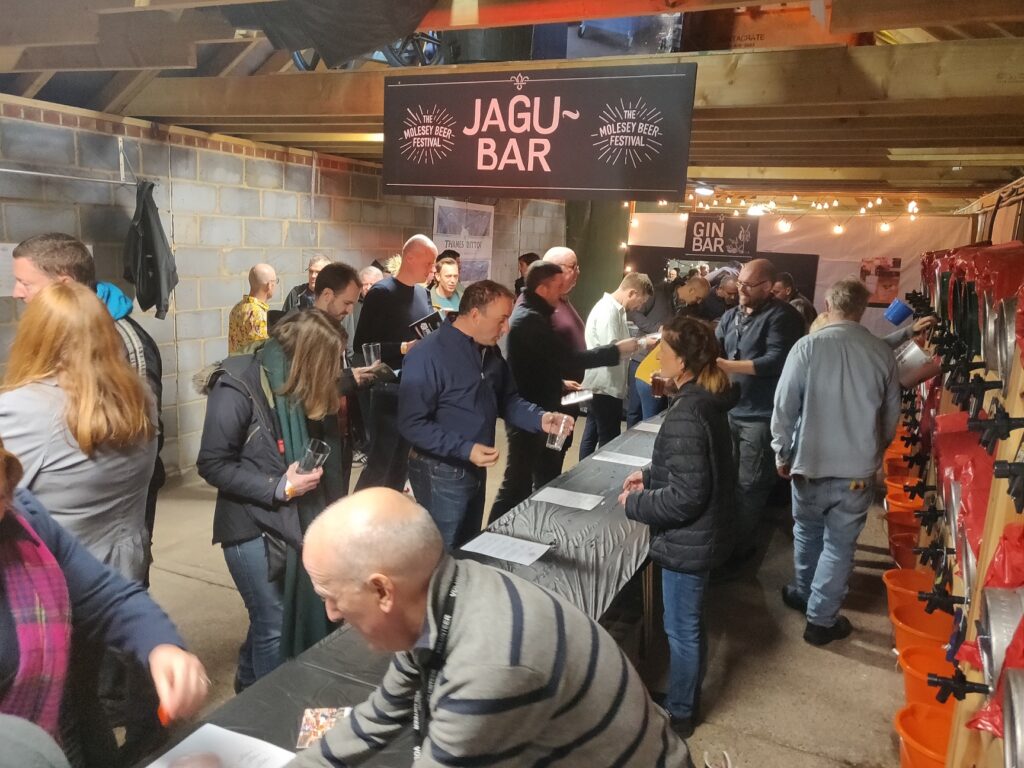 ---
Thank you to Not Just Travel for continued sponsorship
Your perfect holiday. Tailored to you, booked by us.
Everyone needs a holiday, but how do you make sure you get the dream holiday you deserve?
No trawling the internet or holding for hours on the phone, one 30-minute call is all it takes. Tell us your dream, and your holiday nightmares, and we'll find the perfect match.
Whether you want to book a weekend in the UK, a cruise, Europe, or a luxury around the world trip, we can help.
Our service is free & fully ABTA protected. So, get in touch now and let's start dreaming.
Remember, for every booking made through us from 1st Molesey members, friends and family, we will donate a minimum of £30 to the group.
Lisette and Liam Not Just Travel
lisette.julio-quinn@notjusttravel.com
lisetteandliam.notjusttravel.com
07505 999 773